Smartphones are getting increasingly entwined with people's daily lives. They are now equipped with powerful processors, spacious memory, upgraded operating systems and every other facility that caters to the improvised smartphone features. With every launch of new updates in Android and iOS, there is a proportional surge in the profit margins of smartphones that are equipped with the latest features of these systems.
There are many reasons that can make us ponder over the fact that it's high time to repair or replace our smartphone as soon as possible. Many applications such as gaming and real-time location-based tracking applications consume significant battery energy because of the requirement of a continuous internet or GPS. Such exhaustion of resources can lead to serious mobile issues such as a slow interface, unresponsive screen, sudden power offs, etc.
Before your smartphone becomes a serious cause of stress and frustration, you must frame out a way to switch it back to the normal mode by fixing the problem right at the start, or, letting go of your current phone and replacing it with the latest version of the smartphone.
Replace or Repair the Smartphone
The global popularity of smartphones has advanced at an extraordinary pace which further makes it hard to give up on our mobile phones easily. But problems like slow functioning, fast draining battery, etc. are some of the major factors that provoke us to either repair or replace our smartphones.
Even after realizing that our phones are going through a lot of persistent issues, we still aren't able to decide whether we should repair and sustain it for a while, or replace it with a better and upgraded version.
The most frequently asked questions are:
Should I repair my smartphone or buy a new one?
Repair vs Replace? Which is the better option?
Is it worth repairing my old iphone?
Repair or Replace: Dilemma of a Smartphone Owner
Following are some parameters on the basis of which you can determine whether your phone needs a fix or a replacement. Ask these questions to yourself and decide whether your smartphone needs a repair or replace.
1. What is the Problem with my phone?
Before jumping on to conclusions, you must analyze and discover the actual issue of your smartphone. Cracked phone screens and broken home buttons are some common issues that can be solved by repair. But if your battery exhaustion is constant and there is always an unexpected power off every now and then due to a faulty motherboard, a repair might not solve the problem.
Accumulation of excess items in your smartphone leads to insufficient storage and unresponsive screens and such issues can be fixed with a factory reset and cleaning the junk files. However, if there are any further critical issues and despite repeated repairs these issues continue to persist, then only a replacement can suffice your requirements.
Everything starts with detecting the problem that is affecting your smartphone, only then you would be able to decide on the appropriate path to solving it.
2. What is the Cost for Repair v/s Cost for Replacement?
Although there are many issues that can be sorted out by repairing the smartphone, certain problems can damage your phone to an extent beyond repair. And it is quite evident that the cost of repairing a phone is much more cost effective than replacing it completely with a new and updated one. After detecting the actual issue that has been hampering the functionality of your phone, you must compare the costs of both, repairing and replacing.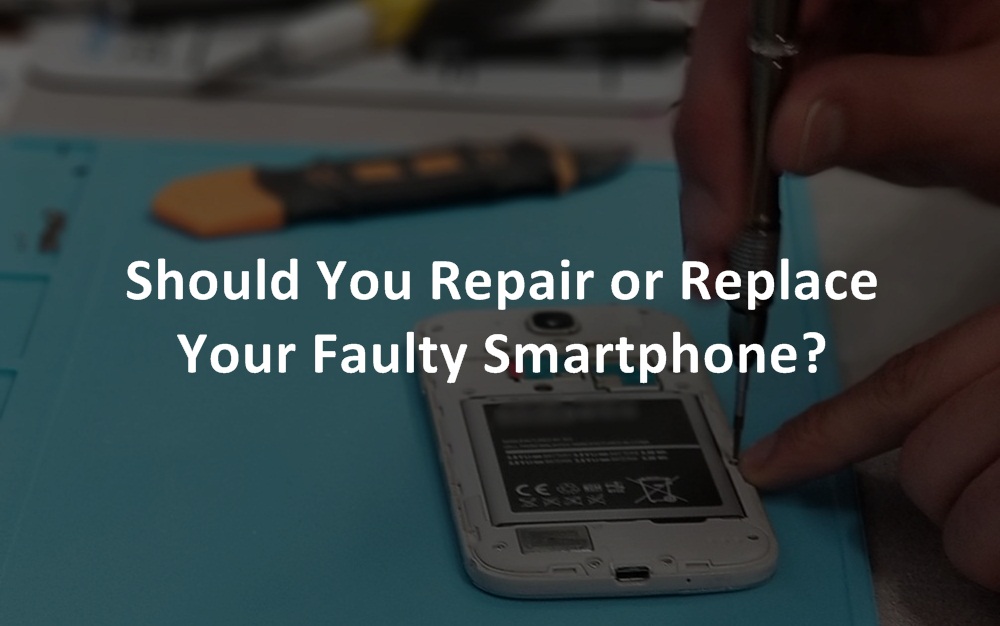 If issues such as changing the PCB or water in the phone need a repair that would draw a large portion of your hard earned money, it would be rather practical to buy an improvised and updated smartphone for yourself. Analyze the problem, compare the costs and then come to a decision whether a repair or replace is the ideal and cost effective solution for your problem.
You can find cost of repair at some of the best mobile repairing services centres in Mumbai and then decide whether you should opt for repair or replacing your smartphone.
3. What is the Warranty Period for my phone?
Most, in fact all smartphones manufacturers provide a warranty period on the phones, within which the owner can avail free repair services or even get a replacement for the phone, given it has critical issues which cannot be solved by repair. Before getting into any decision regarding repairing or replacing, it is essential to look out for any insurance provided by the manufacturer to avail the best benefits. If your smartphone has some internal problems such as issues regarding the operating system or PCB, and given that your phone is covered under a warranty, you can get your phone repaired from the manufacturer's authorized service outlet for free.
Repair or Replace: Analyze the Factors
Today, smartphones are capable of supporting a large spectrum of applications; whether it's for a stock market bidder or a game enthusiast, mobile technology has streamlined the world and placed it in our palms. However, these smartphones are not sustainable and there are factors that lead to repairing or eventually replacing them with a new and improvised version. And it depends on the owner to weigh all the options and reach a decision whether repairing or replacing is the ideal solution.