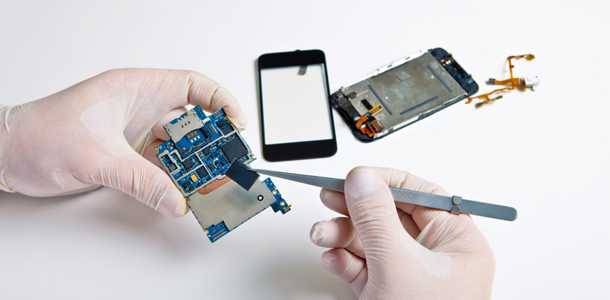 It is not very difficult to run a cell phone repair business if you have all the  know-how, skills and the resources to run it. It is a very lucrative business with very good and fast returns on investment compared to other similar businesses. Read further to know all about it.
You can offer the below 6 services in your cell phone store:
Repairs
Sale of accessories
Refills And sale of SIM cards
Downloads
Buying And Selling of  used cell phones
Selling new phones
1. Repairs: This is the most profitable part of a cell phone store if run successfully. You can earn from 20 dollars to a 100 dollar with each handset repair. So do not ignore this section unless you cannot handle it. Also read the tips below on how to handle cell phone repairs.
Try to repair the cell phone in the estimated stipulated time itself. Don't delay. If you have lots of work or are engaged and busy in other activities, tell your customers that it will take a little longer for you to fix the handset. If they are willing to wait, they will give the handset for repairs.
You have to fix the smaller problems at the same time i.e. within 15 to 30 minutes. This is because customers will not wait for 1 day for a small problem like microphone, speaker replacement, etc. For this, you should have the most common small spare parts in stock at your place!
Return the SIM card and MMC card if not needed. This is because, as they are very small, they are more prone to getting misplaced. And if for some reason you have taken them, take precaution to keep them safe.
Whenever you are formatting or flashing a cell phone, tell the customer that all the data will be lost. Otherwise, we have heard of cases of people arguing and even fighting later!
If the spares for a particular smartphone or tablet is not available or will take time to procure, inform the client of the estimated delay due to the said reason. This is to avoid inconvenience to the customer.
The most important thing is the availability of spare parts. You should know the sources where to you get spare parts. Locate spare parts sellers in your area which have a large stock of various spare parts of the models which are selling in your country. You can also buy spare parts from websites like www.parts4mobiles.com and www.all-spares.com
2. Sale Of Accessories: You can additionally also sell accessories like chargers, headphones, scratch guard, batteries which also earn a descent profit. Smartphones today need a lot of accessories which sell like hot cakes! You should stock the most common and most-selling accessories of the models selling in your country.
3. Refill And Sale Of SIM Cards: You can opt for it only if it less of a headache and profitable in your country. Most people do not prefer to do this as it has very low margins of profit compared to the investments required in this refill business.
4. Downloads: Downloads of videos, games, software, music is a good business but only done in countries where more people are illiterate or we can can say tech-savvy. The cell phone stores charge the customers to download all the things the customer wants in his handset.
5. Buying And Selling Of Old phones: Buying and selling of old or second-hand phones is a very good business and earns more profit compared to selling of new phones. If there is scope and a good investment is done, it can earn huge returns. Many people prefer to buy refurbished phones instead of going for a new one. The only thing you have to take care is check carefully whether the handset is not stolen. Also you have to check if the handset is working in a very good condition. If will have to check all parameters like the handset is charging properly, LCD is clear without any crack or stain, camera is good, all buttons are working, battery is not discharging, etc. You have to be very alert and stringently check the handset before buying it to verify if there is no fault in the handset. Also you have to know the current buying and selling price of the model in your country.
6. Selling New Phones: This business will require a lot of investment and experience as well. It is hence preferable to start with the above 5 businesses if you are not very much experiences and if you do not want to take risks. If you are going for this, it is always preferable to have the entire range of models people buy in your country.
So, now you have read the entire guide above, it is necessary to know that you can do all or just a single business among the six mentioned above keeping in your mind your interest and capital available with you.