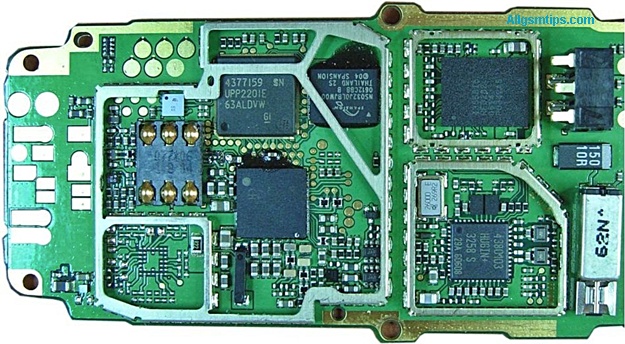 Soldering a jumper wire becomes necessary for repairing any problem in mobile phone while repairing it when a track is broken. Tracks are the connections through which current flows in the PCB (Printed Circuit Board) of the cell phone. These tracks also supply voltage to the various spare parts. They cannot be seen as they are inside the circuit board. The motherboards of handsets have 7 to 10 layers depending upon the model. If a track or line is broken, the part to which it supplies voltage will not work.
How To Check Whether The Track Is Broken And We Need To Make Jumper
In old models of cell phones, the tracks were visible on the PCB and hence you could easily check them through continuity with a multimeter. But now as the tracks are marked so as to not increase the size of the PCB, we will have to search the tracks through either jumper diagrams or schematic diagrams. But first the method is to first check the part which is not working. If the part is faulty, you will have to change it. The next step will be to do tracing on the PCB through either jumper diagrams or schematic diagrams. It is easy to follow the jumper diagrams, so technicians prefer to follow jumper diagrams and images.
There are 3 ways to search tracks on a PCB:
1. Through jumper diagrams in Google images
If your mobile phone is Samsung Galaxy S2 and its not charging, you will have to type in Google any of the below search terms
Samsung Galaxy S2 not charging
Samsung Galaxy S2 charging solution
Samsung Galaxy S2 charging ways
Now click on images and you will get to see many images showing the track you have to check. Select the best ones which are clear and easy to follow!
Now use a multimeter and put it on continuity. Place the probes of the multimeter on the 2 points shown in the image. If you hear a beep, then the track is fine. The track is ok. But if you do not hear a beep sound, then you will have to solder a wire between the 2 points. You will be surprised to see that the fault has been fixed! If you hear beep, then you will have to check continuity of other good images also. In these diagrams, sometimes if you are asked to check or change resistors and capacitors, you will have to do it. Sometimes, these images also ask you to remove some parts. In such cases, you just have to remove parts and do not solder any part in place of it. You may be surprised why they are asking you to remove parts, but this is how it sometimes works and so you will have to do it!
Read How to use multimeter in mobile phone repairing
2. Through schematic diagrams: A schematic diagram is a diagram which shows the entire network of tracks that run on the PCB. It will cover tracks of all sections of the circuit i.e power section, sound section, network section, charging section, etc. If you learn how to read and understand these diagrams, you will be able to repair all hardware faults that are not the 'beyond repair' stage. For this, first you will have to search for schematic diagrams. If it is not available on the internet, you cannot do anything. If it is available you will have to trace each and every track with multimeter and make jumpers where you are not able to hear beep sound. If still the problem doesn't get solved, you will have to either reheat or replace the corresponding IC of that fault. For eg, if there is no charging, you will have to check/reheat/replace the charging or power IC.
3. Through PCB of the same model: Although this is not practicable, some technicians try to trace tracks through a working PCB of the same model. They check random tracks for continuity on a working PCB and then check the same in the PCB that is to be repaired. This procedure also sometimes clicks!
Note: Some of the diagrams/images may not be accurate, so you will have to take some risks. Its better to use images only from reputed websites and forums to lessen the risk of inaccuracy!
Please also let us know your feedback in the comments below!