How To Hard Reset Sony Xperia Z1
Learn how to make a hard reset or format Sony Xperia Z1 by using any of our simple methods. Sony Xperia Z1 code named "Honami" is a high-end Android smartphone produced by Sony. It is water as well as dust proof with a 20.7 megapixel camera and is shipped with Android 4.2 (Jelly Bean) operating system.
Hard-reset means to format i.e you delete all the data in the phone memory. Many mobile repairing technicians do not know how to open pattern locks. With a hard reset through key combinations, you can easily open pattern locks in Android phones.The cell phone will also come back to its original factory settings. It is also called master-reset and even alternate reset. We are showing here all the methods to hard-reset your Xperia Z1.
You should first try a soft-reset i.e to re-boot your handset. Just press the power button until it shuts down and then restart it. If the fault gets resolved, you do not need to perform a hard-reset.
When is hard-reset required?
If you want to bring your phone back to its default settings.
If your device is infected by any virus.
If your handset is functioning very slowly.
If it gets stuck, freezes, hangs or become unresponsive frequently.
Some of the apps are crashing and not functioning properly and you are unable to even uninstall them manually.
If there is some software or OS related problem which you cannot resolve by basic methods.
When you are planning to sell your handset and want to delete all your personal data.
If you have forgotten phone code or user code.
When your handset is pattern locked due to too many wrong pattern attempts. You have forgotten the pattern as well as the gmail account ID or password associated with that device. ( if you know the gmail ID and password of that handset, you can recover the pattern and save your data.)
Read Difference between hard reset and soft reset in cell phones
Learn how to backup and restore an android cell phone
There are 3 methods of doing a hard reset on Sony Xperia Z1
1. Hard-Reset through physical button: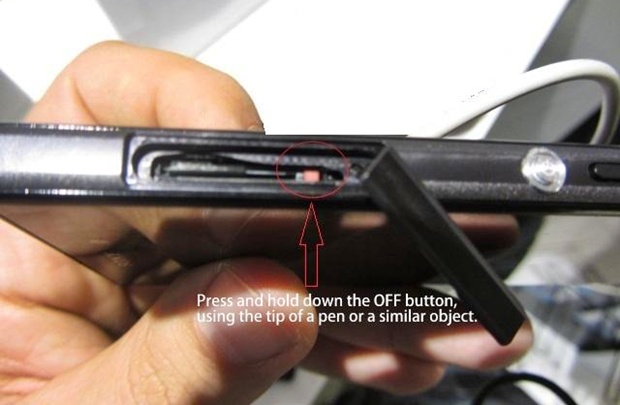 You can format Sony Xperia Z1 by a special physical button. Just remove the memory card and besides the SD card slot, you will find a small red coloured button. Press and hold this button for 3 to 10 seconds. The phone will now shut down. Now press the power button to switch it on.
2. Hard-Reset through settings:
This is the most simple and easy method and is possible if you are able to access the menu and go to settings.
Search for the settings option in the menu.
Now select 'Backup Ad Restore'
Now select the 'Factory Data Reset' option.
Now select 'Reset Phone' option.
Now tap on 'Erase Everything'. The process will take some time and the handset will now restart. It will then restart.
3. Hard-Reset through key combinations:
If you cannot access the menu due to pattern lock or booting related problems, you can use this option.
Volume Up + Power Button
1. Switch-off your handset
2. Press the power button volume up button simultaneously and hold until you see the android logo.
3. You will see an option – Wipe data/Factory reset. Go to this option with volume down button. Select this option with power button.
4 Now come down to the option – delete all user data with volume down option and select it with power button.
5. The device will now be formatted. After this select the option – reboot system now by pressing the power button.
Perform a factory data reset only if absolutely necessary as it will remove all the below things including all your data:
Google account
Downloaded apps and their data.
App settings
Contacts, messages, music, pictures, videos, etc.
If your problem or fault is still not resolved after performing a hard reset, you will have to flash or update your cell phone.
Note:
1. Hard reset erases all data, so take a backup of all your data if possible before performing a hard-reset to an external device.
2. It is important that your phone battery is charged enough to last the procedure i.e atleast for 10-15 minutes.
Please let us know if any of the above method is not working. Please also let us know if the above procedure solved your problem or not in the comments section below.