Learn how to fix, repair and save your wet cell phone if it gets water-logged. The next time when your get your cell phone gets soaked or drenched in water, tea or coffee, just remember and follow these simple and easy first aid measures. You will be more than happy and surprised to see your priceless gadget be it a smartphone, a tablet or ipod in working condition. You won't get frustrated of running around repair centers if you follow these simple tips.

Most people don't know the basic steps to avoid a wet cellular phone from getting damaged. The most important thing is to follow the procedure to avoid damages to the printed circuit board (PCB) of the cell phone. Preventing damage to the PCB (also called motherboard) should be the main aim as you lose warranty on the handset due to water-logging and in such cases most of the service centers don't provide a new circuit board and it is also not available with spare part sellers.
Steps To Repair And Fix A Wet Cell-Phone:
Remove the battery immediately: This is important so that current does not flow freely in the motherboard and don't just switch-off the handset. Just switching of the handset is not enough, you have to remove the battery.
Dismantle your cell phone: Open up your cell phone carefully. You can see videos of dismantling method for your particular model on youtube! You may need opening tools as well as screw driver for dis-assembly.
Dry the circuit board completely: The green coloured circuit board carefully and completely. You can use a hair drier or you can also dry it in direct sunlight. Just make sure you dry it completely!
Also dry all the spare parts and components: You also need to dry the components as well as the body so that nothing remains wet. Be careful that you do not break the LCD as it is very delicate.
Clean the circuit board: Clean the entire PCB with spirit or alcohol using a brush. This will prevent corrosion on the PCB.
When you finish with all the above steps, you can re-assemble your phone. Now check if your phone switches on. If yes, you are a lucky man! If no, don't get dejected, you still have one more option. You can connect it to computer and see if it is getting detected. If yes, update it online and check again. If it does not switch on, charge your handset and try again. And if it is not getting detected in computer, dismantle your handset again and give mild heat (not more than mild!) all over the PCB and check again. If it doesn't switch on now, you are not lucky enough! You will have to visit a repair center.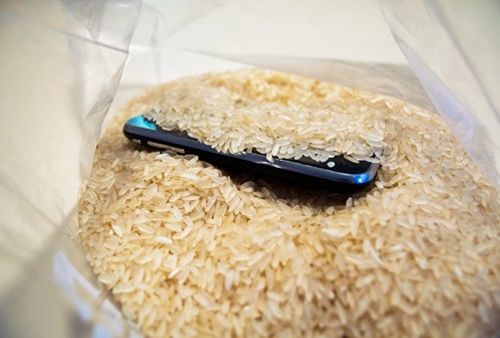 Some people also keep the water-damaged phone submerged in a bag of rice to absorb all the moisture. It is a good thing giving positive results, but still not enough if there is more water inside the handset.
Note: If you do not know how to go about the above procedures, don't repair it yourself. You are more likely to damage the handset further. Just remove the battery immediately when it falls in get it fixed at repair centers.
Please also post your valuable suggestions on further prevention and protection in the comments section below.