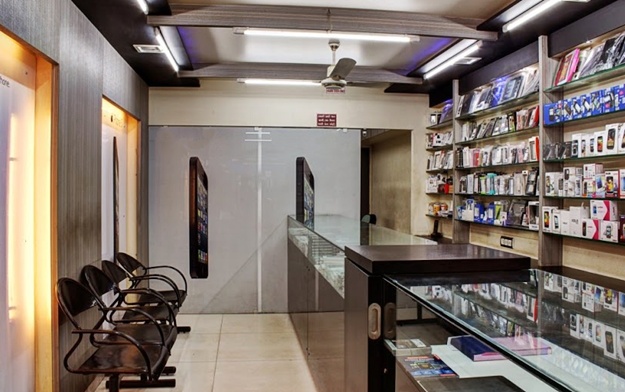 Mumbaikar? Planning to buy a new mobile phone or a tablet? Be it Samsung, iPhone, Nokia, Sony, LG or even a Chinese handset, do you want to know the best places to procure it that too at the lowest prices? Then read further to know the best and the most famous mobile phone shops and stores with cheapest rates in the city to make your experience satisfactory.
The Best Mobile Phone Shops In Mumbai With Cheapest Rates
1. Zoop Collection
This is the favourite shopping place among most of the people from South Mumbai looking for gadgets like mobile phones, tablets and the like.
The prices of all the products sold by them are among the lowest and the shopping experience here is worth it!
Address: Shop No. 2, Mehta Bhavan, Charni Road, Girgaon, Mumbai – 400004.
Contact No: 022 – 33486109
Landmark: Near Hinduja College
2. Alfa Mobile Store
Alfa mobile store is one of the most famous gadgets store located in the western suburb of Vile Parle. Youngsters from the western part of the city flock here to buy their gadgets, be it cell phones, tablets, laptops or even other home appliances. The huge crowd of buyers here is little bit of a distraction but still people from this part prefer to buy here due to low prices and the huge range of collection of various gadgets.
Address : 5 & 6, Dadi House, Irla Society Road, Vile Parle (West), Mumbai- 400056, Maharashtra, India.
Contact No. : (022) 26713459 | (022) 26719696
Landmark : Near Prime Mall
Also Read Tips To Select And Buy New Cell Phones
3. Gunjan Electronics
Located near Santacruz station on the west side, it is equally famous due to its low prices. It sells mobile phones, tablets, digital cameras, laptops as well as home appliances.
Address: Shop No 2, Balaji Co Operative Housing Society, Next To Shabri Hotel, Tilak Road, Santacruz West, Mumbai – 400054
Phone: 022-61634108
Landmark: Santacruz Station (West).
4. Sony Collection
This mobile phone shop is located in Kalina in Santacruz east. It is equally famous due to low and competitive rates of all cell phones sold here.
Address: Kalina
Landmark: Near Kalina Mosque
5. Khazana Collection
In kalina, there has emerged a mini market for new as well as used phones. There are about 10 to 15 stores near Air India Colony – all of them selling either new or old smartphones. And Khazana collection is the most famous among them.
Address: Air India Colony, Kalina, Santacruz East
6. Top 10 Stores
Recently Top 10 has emerged among the most famous mobile phone retail shop with various stores near most of the railway stations in Mumbai. It is famous for its competitive prices and also wide range of various brands of mobile phones. It has a store in Andheri, Vile Parle, Kandivali, Goregaon, Dahisar, Dadar, Kurla, Ghatkopar, Thane and near many, many more railway stations. They are opening many new stores all over Mumbai and are expanding rapidly.
7. The Mobile Store
Run by Essar Group, a multinational India company, it has a pan India presence with stores all over the country. It also has many outlets in Mumbai. Its stores have a large collection of models with good courteous staff. But the pricing being not very competitive compared to its competitors has been an obstacle for it to get more customers.
Address: You can get locations of its stores at www.themobilestore.in
8. Manish Market
It is among the most famous places for grey market electronics goods. No wonder people looking for cheaper cell phones without bill (of course without warranty!) visit it. The problem here is that if you are not alert you may most probably be swindled very easily! Also as there are many salesmen out there who want to make quick money, through unethical means, they have lots of tricks up their sleeves to make you buy a fake and pay for an original. So avoid it if you are not well versed with their dirty tricks!
Alternatively, many electronics retail chains like Vijay Sales, Croma, Reliance Retail,etc also offer good competitive prices and are worth visiting during shopping seasons due to various attractive offers.
Read The Best Mobile Phone Repairing Institutes In Mumbai
Our suggestion: Before buying a new mobile phone, if there is a considerable difference between various sellers, you can also check the rates and prices online on ecommerce websites like flipkart.com and snapdeal.com. If there is not much difference in the prices, you can buy it anywhere.
Please let us know, if you know any more mobile phone shops and stores in Mumbai with cheaper and competitive prices.